August 30, 2009

Dear Melba,

Enjoyed browsing your site. I was born in Sacramento and "came out" in 1971, why I am still alive only God knows (long story), but I wanted to mention the following:

There was a bar on I Street between 20th & 21st, a small bar, called at first, Salty's, and then, Cruz-In 1, owned by Don & Ben. I know it because I met my partner of 37 years there on 9/1/72. The tiny bar might have been only open during the 1972 - 1973 era. I think it's an empty parking lot now.

My partner and I celebrate 37 years together (in our open relationship) on September 1st. We both now live in Santa Cruz County, which also is nearly devoid of Gay bars, but at least we feel accepted here in our retirement. We are both relatively healthy.

During the 1970's, in Sacramento, there was the Cruz-In II, also owned by Don & Ben, ACROSS FROM PLAZA PARK. The bar across from Plaza Park had several different gay owners and names, however, I cannot remember the earlier ones. Ernie Brown might remember?

We know Don & Ben are both long gone, but does anyone remember them? We think both of them passed of 'the disease", along with thousands of others, our age, before the days of effective medications. I refer to those horrible Years of Death in the 1980's as the "Silent Genocide of our Generation."

We know almost NO ONE our ages left alive. (tears)

I worked PT as a janitor/bartender/bouncer for several years at the Underpass in the early 70's while going to college, I was the tall hippie-looking dude with long hair, and I thought Frank Holt and Bob Ferrell were great. I helped him cater several events, he was famous for his spaghetti dinners, some of which were provided FREE to the non-affluent gay crowd back then.

Does anyone remember that BEFORE it was The Underpass, it was an underground gay bar called The Corker, run by EVE (Eveyln Ballard) in the late 60's/early 70's? It had red velvet wallpaper and chandeliers, and was frequented by customers such as "Elegant Gene" who always wore an expensive suit, and an older guy named Sam Hill? There were frequent POLICE RAIDS on the place during those fragile times! I also met a guy there called Michael Leek, who was the bartender (at both The Corker and The Underpass). He also worked at the Hide and Seek during the early 1970's. His roommate was a long haired guy named Vern, a very nice person.

I knew ??? then very well, and in fact babysat her daughter in West Sacramento in the 1970's. I wonder if she knows I am even still alive? She had a sister, ???, whom I went to school with.

Does anyone remember dear Samo? She was shot in the head and killed at the Adult Book Store down the street from the Underpass in the 1970's. I miss her to this day, she had a heart of gold, but definitely did not look the part of being gentle. She was one of the earliest Lesbians out there, hot on the scene, in those early 70's days of it "not being very safe" being simply OUT.

Does anyone remember Lady Garnet, Bobbette, La Kish, and Aunt Rose? They were icons of the era, and I wish someone would elaborate on their contributions to making the gay scene FUN during those wild, woolly, and seemingly carefree days, where it was not remarkable to be proud and guiltless of enjoying multiple, loving partners. God, how I miss those days!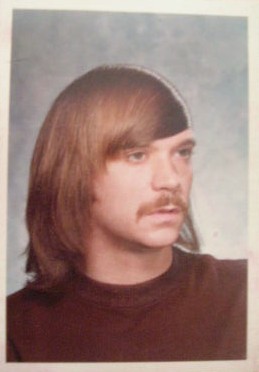 A "vintage" photo of me from those days - 1976


Nice to know there are people from our era still alive. The above information is spotty, but I remember some things very well, some items above may need correction.

May your informative Site continue to grow -- would be great to see a book out there someday, written about our special generation.

Bob T.
Gwmsantacruz@aol.com


---
October 11, 2009

Tom,

The additions look great. Thanks for including my thoughts and memories in your brave compilation of what things were like in those complex, yet simple days.

Because of your innovative Web Site, I have reflected over the past few weeks, about what I have read (and wrote) about those days...

And, if OK, I would like to add an addendum to my story, sort of philosophizing about why it was important to me to have shared those Memories...

Of course it's up to you, whether to include the addition (below) on your Site.

Thanks,

Bob T.

++++++++++++++++++++++

An addendum to the above...

People might wonder 'why should we preserve' the memories of our sometimes imperfect past; reminisce about our naive youth; and mourn over our shattered dreams and passed-on friends and enemies?

As for myself, I have no apologies for enjoying my youth and young adulthood. As imperfect as the early, torrid Bar and Bathhouse scenes were, the pioneering businessmen and women who opened gay bars in the 50's, 60's, 70's and beyond, took a chance on the unknown and, in doing so, provided GBLT people "a relatively safe place to meet and have fun."

What an honorable service this was to us -- because we were simply not welcome in Society anywhere else! Gay bars I hear are now becoming passe' and it seems there (still) is no safe place for GLBT people "of all ages" to meet and socialize safely. Many GLBT people still mistakenly worship Youth, at all cost, and cruelly shut out the disabled, poor, aged, or not so physically attractive members of our culture.

How very sad and pitiful those Rejecting Concepts (still) are. Both past and current GLBT culture ought to be ashamed for being so non-inclusive, when they, themselves, expect total inclusiveness from the whole of society.

As for my life "after" the bar scenes, I finished college with honors with a BA degree and went on to work helping disadvantaged people in several nonprofit agencies over 30 years, including 8+ years at Sacramento AIDS Foundation. I will die knowing I tried to help several thousand people in our Culture die a dignified death amidst the cruel World of Prejudice and Rejection that surrounded them.

My partner went on to work 31+ years for the State of California. Despite our humble and questionable "bar scene" beginnings, we became stable, honest, productive and taxpaying citizens since those early, wild days. Dare I say, even becoming, today, somewhat more "moderate" in many of our views!

We simply wish those days would have NOT been marred by an incurable and still mysterious disease... We wish those innocent times would have evolved into a more accepting world "more quickly" for our present and future GLBT brothers and sisters. Time and progress went backwards for several decades in our Culture because of AIDS.

Of course, there still has been s l o w progress in GLBT culture. Yet, much has been lost by the introduction of AIDS: the memories and lives of thousands of mainly-forgotten GLBT people whose legacies seem to only exist by being named (or missing and NOT named) on a relic AIDS Quilt.

The Age of Aquarius, the Hippy world, Flower Children, and the Free Love Generation are all gone; as well as the boundary-less Sexual Revolution. And, even more significantly, it seems to us that the Caring, Thoughtfulness, Comradery, Unselfishness, and Innocent Sentimentality of our precious youthful times seem to have been lost forever.

Today, dare we to even CARE about our brothers and sisters anymore? The ones who are not as fortunate as we were -- and are? Can we dare to get the hell off our cell phones and IPods to simply interact KINDLY with one another ever again?

It is for the loss of those lofty principles, moralities, ethics, and sincere regards for others, that I mourn most.

Bob T.



If you would like to share any information about Bob T.
or would like to be added to my "Fifty Gay Years" e-mail distribution list,
please let Melba know.
Thanks!